As the Ravens prepare for their final regular-season game, their bodies are tired and sore.
This is especially the time of year that Barbara Depta can pay dividends.
Depta is a flexibility and mobility coach, certified nutrition specialist, and strength coach. What she really specializes in is fascia stretching, which heals tissues and speeds up rehabilitation.
She has been working with the Ravens since training camp and will have the task of rejuvenating the Ravens' bodies and minds before they face the Cleveland Browns this Sunday with the playoffs on the line.
"The fascia system reacts to all stress – physical, mental, and emotional," Depta said. "It gets tighter if it is not treated, and a player's overall functionality deteriorates. It is essential for physical and mental recovery."
Depta worked with the Ravens every day throughout training camp. During the seasons, she has flown up from her home and business, Beyond Stretch in Jupiter, Fla., to help players every Friday.
"I think she did a great job with some good tips on my nutrition intake," outside linebacker Elvis Dumervil said, saying she changed him to more of a protein diet. "She also does a good job too of getting your hips open and getting you ready for the game."
Stewart came to Baltimore with a long list of nagging hamstring injuries from his days in St. Louis. He hasn't had a single problem with that since coming to the Ravens. The safety has played in every game, including 13 starts, and is coming off a game in which he nabbed his first interception of the season.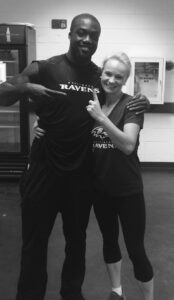 "I'm happy she's here," Stewart said. "With what she does, I feel like I recover a lot faster. She gets me prepared to play every week.     I haven't had any issues at all. She does well making sure my muscles are firing. She's one reason I'm healthy for sure."
Depta, a former semi-pro basketball player in Poland, got her start when an elbow injury cut her playing days short. She then immersed herself in learning more about the human body and recovery and studied with some of the top specialists in the field.
Depta has worked with PGA Tour golfers, MLB and NHL players, and former UFC champion Rashad Evans.
Former Ravens wide receiver Anquan Boldin referred Depta to teammate Ray Lewis. Depta didn't know who Lewis was at first, but he soon became a close friend. She traveled with him during his playing days, and recalls him saying, "Wow, this is magical, a game-changer."
Lewis was her foot in the door with the Ravens, and she expanded to helping many more players this season.
Depta also works with players on their diet and balance. The work she puts in with their tissues makes a widespread difference in their overall health and performance.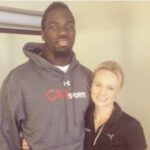 "It improves their recovery tremendously. It also improves their mobility," she said. "If their mobility improves, their strength improves. If both improve, their overall conditioning is completely on a different level."
Click here to read full article